New Mining Wastewater Treatment ROI Calculator: See Which Solution is Best for You
Are you looking for a more efficient wastewater treatment process for your mining operation? The right solution can help optimize your processes, leading to:
Increased cost and energy savings
Easier regulatory compliance
Maximum water recovery
Long-term sustainability
While retention ponds were once the go-to option for handling your mining wastewater, they are often highly inefficient and can negatively impact the money-making potential of your operations. Trying to settle out your wastewater in a pond means that the pond will eventually fill up with too much waste and you'll need to get a new pond. You also miss out on the opportunity to reclaim any valuable fines in your wastewater.
Instead of ponds, filter press and custom dewatering solutions are becoming increasingly popular due to their higher operational efficiency and performance. Not only can you avoid costly fines, but you can also create a virtually closed-loop system for maximum water efficiency.
How Do I Improve the Efficiency of My Mining Wastewater Treatment?
Before you make the switch to a filter press, you'll want some data behind your decision. ChemREADY's online ROI Calculator can help you determine if a custom dewatering solution is right for you by comparing the cost of your current system to what you could be saving with a filter press.
Let's take a quick walkthrough of the calculator and how to use it:
Before getting into your savings opportunity, you'll want to start off with an assessment of your plant.
This is where we size up your current operation to see how efficient your current process is.
The throughput of your production material helps to determine the size of your operation, while the throughput of wasted material helps you to understand your dewatering needs (and potential loss of fines).
Filter presses are more likely a better option for operations that run year-round since they will fill up a pond quicker.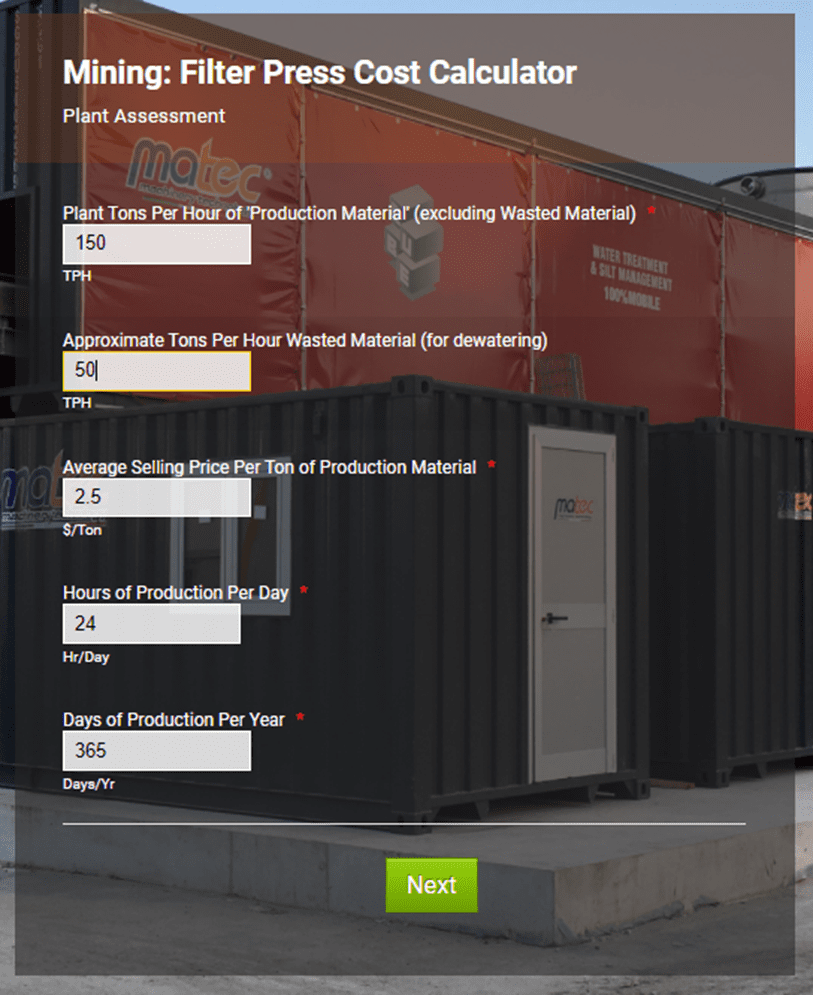 Now we move on to your savings assessment, where you will learn how much you could save by switching over to a filter press.
The cost of your current pond or other wastewater treatment system includes the cost of pond upkeep, hauling waste material, and any labor required.
The ROI calculator will take all of these costs and compare that to the cost of a custom filter press dewatering solution over your desired ROI payback period.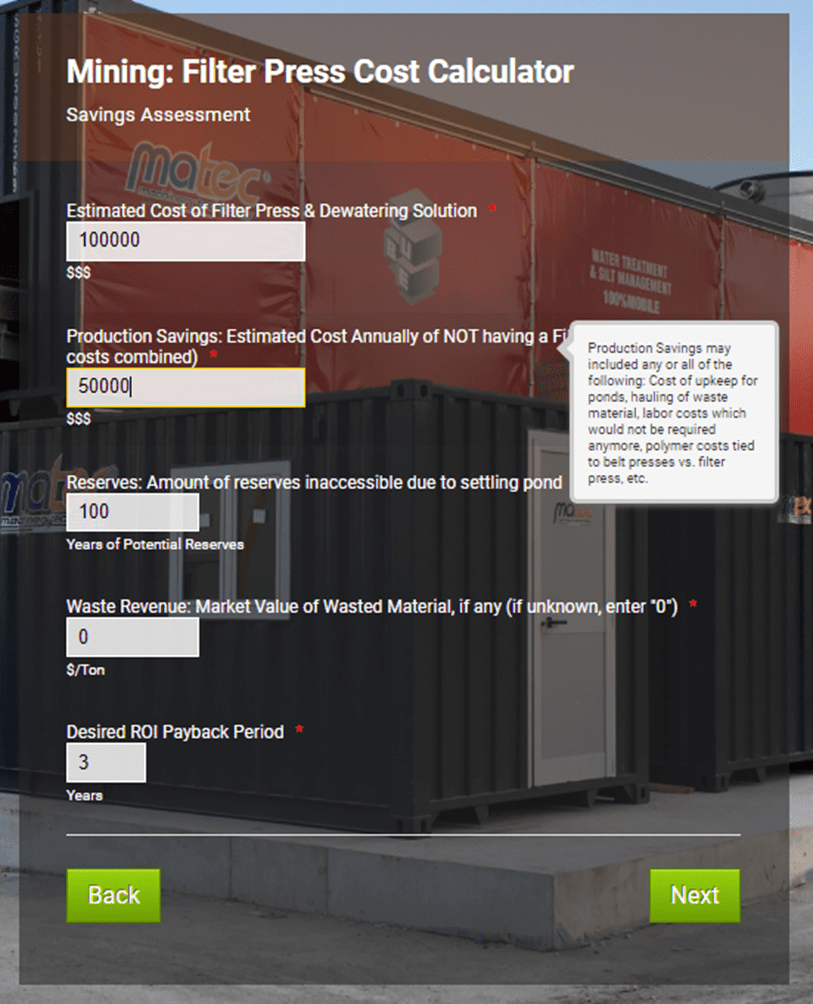 Optimize Your Mining Wastewater Treatment Today at ChemREADY
If your mining application could benefit from a filter press, ChemREADY offers one of the best dewatering solutions available on the market today: the Matec Filter Press. We also offer quality chemical products to get your water in the perfect state for treatment. That way, ChemREADY is your one-stop shop for efficient mining wastewater treatment. Learn more about our Matec filter press solutions.